As a laboratory that has a significant profile of insulation research, we are very well equipped with tools and measurement apparatus that are applicable to forensic study of dielectric materials.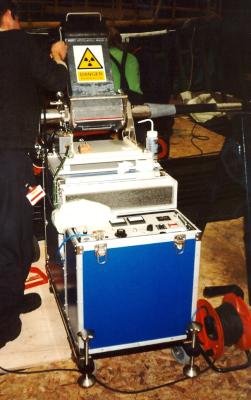 Our portable x-ray equipment has been used to assess power and fibre optic cables and accessories and we also have imaging technology that is capable not only of producing magnified surface images but also of identifying the chemical components within the area of interest.
X-ray / radiographic examinations.
Our X-ray system, meets the ionising radiations regulations 1999, is portable, fully shielded and intrinsically safe, consequently, there is no need for closing off large areas of site when undertaking measurements. We have an in-house dark room facility and produce film plates for permanent records.  Our trained radiographic engineers have used this sytem onboard cable ships to examine subsea cables for faults and in the laboratory to assess segmented bushing samples.  
Regulation standards
| | |
| --- | --- |
| Number | Name |
| 1999 No. 3232 | The Ionising Radiations Regulations |
If you are considering x-ray examination of a component, please contact us and include the following information:
The relevant section of a standard or details of the test schedule that you wish to have performed;
The dimensions of the object to be x-rayed;
If required for use off-site (the customer must supply a dark room for plate processing and we would need to notify the HSE prior to commencing any x-ray imaging); 
Your requirements with respect to reports and certificates.
Raman microprobe and IR spectroscopy
We have the capability to image samples at widely differing magnifications.  Our facilities include many different optical and electron techniques and, in addition to simple imaging we can also determine the elemental and molecular composition of specific features with specimens with a resolution of the order of 1 μm.  
Instrumentation includes:
Stereo microscopy;
Advanced optical imaging (polarised light, dark field, differential interference contrast, etc);
Scanning electron microscopy;
Transmission electron microscopy;
X-ray spectroscopy;
Infr-red microscopy;
Confocal Raman microprobe spectroscopy.
 If you are considering forensic work that may require use of these facilities please contact us outlining your requirements.